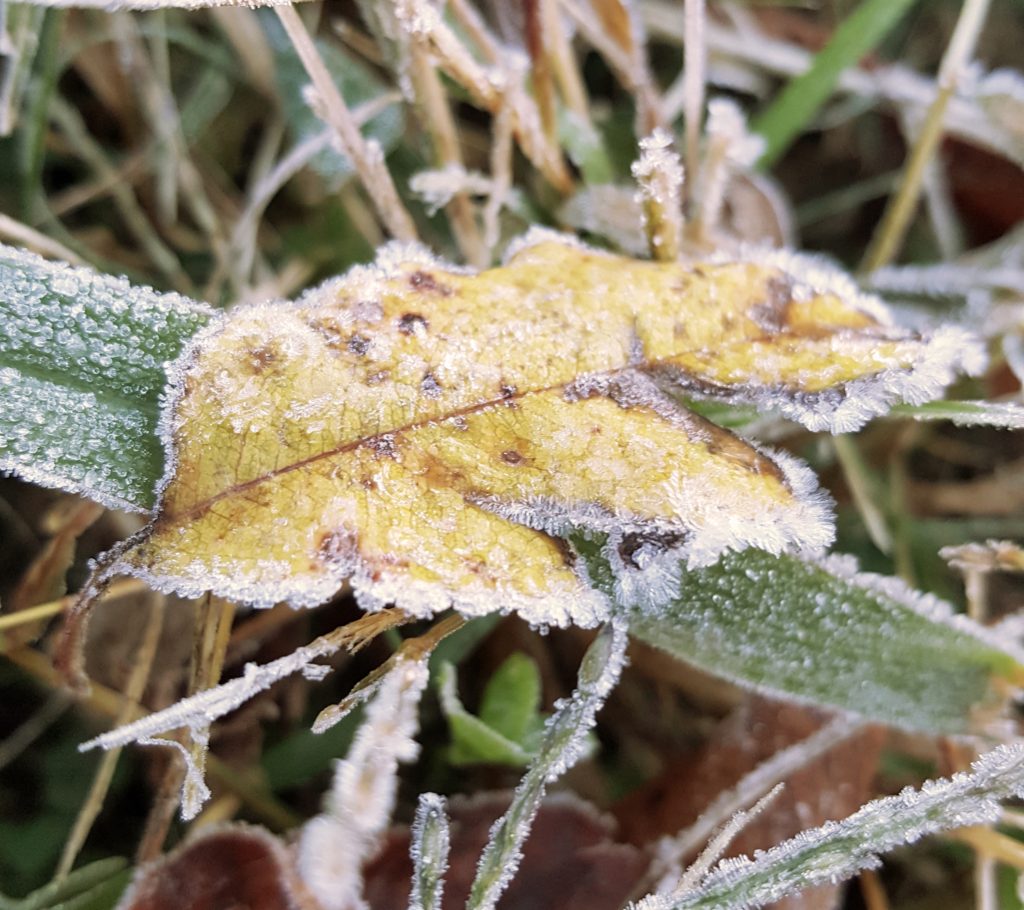 Frosty grass crunched under my leather boots as I trudged across the yard to find the early morning moon.
Grandma Mabel's small wooden table under one arm, and my table-top telescope tucked under the other.
Though the sun was still well below the horizon, its soft light had just begun to color the oak trees … autumn colors just beginning to show.  Shyly, quietly, in the early morning light.
My knees peeked out above my boots, and just below the hem of my warm pink bathrobe … my hands, almost too cold to adjust the focus.  I could see the moon when I looked into the sky, but couldn't find it in the scope.
I still depend on locating the moon in the telescope lens at night by searching for a bright area in the dark sky.  In the morning light, I began to doubt my lens would ever find it.  The Full Hunter's Moon slowly descended toward the treetops across the field.
I gathered up the table and telescope once again, and walked further into the open and plopped it down gently among the frozen grasses.  Somehow I'd plopped it in exactly the right place.  When I peeked in the lens, there was the pale morning moon … low contrast against the pale pink watercolor sky.  A few treetops just grazing the field of vision in the lens.
A few moments of knowing my place in relation to the Sea of Tranquility … it's enough for me today.
Take time for you … even just a few moments.  We need these moments.
---
Even in our most perfect circumstance, even when we know we are home … roots cross our path.  We can choose to drag our toes across, or to step a bit higher.  We can ignore the roots, or we can stop to touch the tender moss … silently creeping its way to the sunlight. Today […]
A new client commissioned this piece for her husband's birthday.  I call it "Lessons In Impermanence, aka Justin's Buddha". In creating it, I learned so much … at almost every phase of its evolution.  Looking at it now, I am reminded to revisit M.C. Richards' "trust and not knowing", a concept that led me in […]
Next Page »