Are you still searching for yesterday's pot of gold, dear one?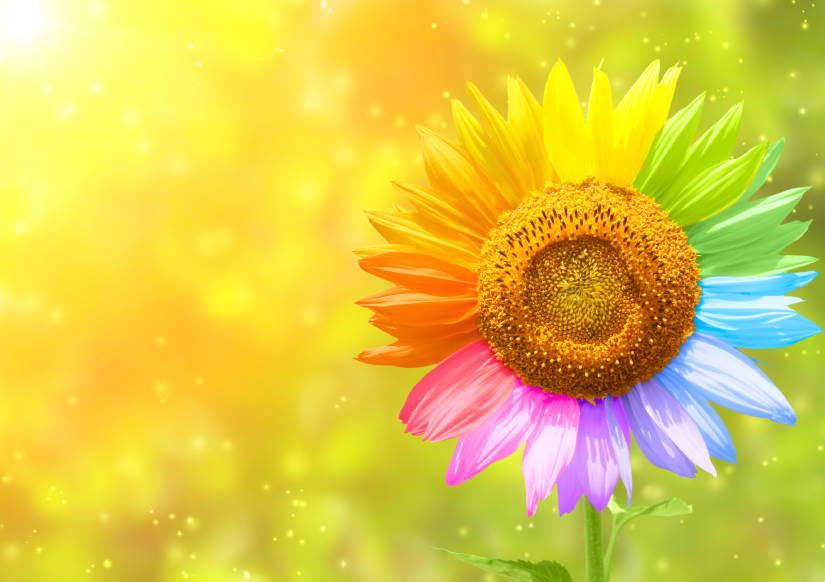 Rainbows are delightful gifts of nature.  They provide visual confirmation that all is well, in balance, and moving forward.
It takes both rain and sunshine … and awareness, to spot a rainbow. I've seen some glorious ones … a huge vividly colored rainbow that appeared to land in a field full of poppies as I traveled to visit my family, and a double rainbow of two complete circles, just before I landed in Guatemala City in 1997.  They've become symbols of peace for me … probably for many of us.
Rainbows come and go quickly, and if we don't find our way to the pot of gold in a matter of moments, we'll have to just wait for the next rainbow, I suppose.
Recently I was listening to a friend who shared regrets about choices she made some time ago. Her feelings were very real …  fear, and pain, and that nagging, insidious discomfort about what might have been had she made other choices.   How her job, her relationships, her financial standing might be different.  Different, perhaps … but there are no guarantees that anything would be better … just different.
She lingered in this place of discomfort, the same place she has been residing for quite some time.  Sometimes it takes time to move through the discomfort, and step into the sunshine.
Then it occurred to me …
She's missing today's rainbows searching for yesterday's pot of gold ~
She's longing for gifts that no longer exist … that rainbow is gone, and the pot of gold is gone with it.
Today there could be a new rainbow. Maybe not, but we'll never know unless we watch for it, keep our eyes to the sky, and keep our minds clear-enough to catch it.
Today there are new gifts, new relationships, delightful opportunities, and financial situations waiting for you.  You cannot undo the choices you made yesterday.  You can only keep your heart, your mind, and your eyes wide open for today's opportunities.
What choice is presented to you this very moment, that can change your life?
I don't want you to miss another rainbow …  in-fact, I'm most certainly missing a few myself.  Let's keep our face to the sky, let's watch for rainbows together.
Are you still searching for yesterday's pot of gold?  Are you missing today's rainbows?
Keep your face to the sky, dear ones ~ and don't fear stepping out into the open, even when there are still a few lingering showers falling around you … that's when the rainbows are biggest and brightest, and when searching for the pot of gold is most delightful.
From my big heart, to yours ~
Love,