A Means to Love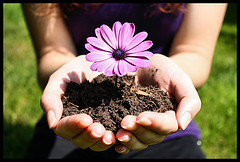 We do our work, our service, our good in the world.
We make widgets, deliver packages, tend to the sick, crunch numbers, cook meals, spin pots, inspect restaurants … make doughnuts.
We feed the hungry, we hold a hand, we mourn our losses.
We raise our fist in anger, and stand against those who would harm our children.
And in the end, whatever it is that we do … it is all only a means to love, sooner or later.
To self love, to love for humanity, to love of family ~ only a means to love.
Do you work with care.  Count your well-toiled hours, invested in the things that truly, truly feed you.
Thanks to chackachacka for the beautiful photo!
To leave a comment, click here!
I hope you'll hop over to Facebook and find me … I'm @ Jane Barefoot Rochelle .
You can also follow the studio at BarefootStudiosLLC.