Posts Tagged by
Momentum Gathering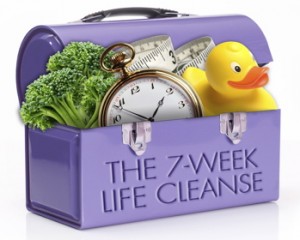 It's a cool, rainy, autumn evening.  I'm tired and need some comfort.  On the back of my hand, I wrote a list of things I didn't want to forget.  There's a star beside the one that says "read katie".
All day I've been looking forward to this cool rainy evening so that I can curl up on the sofa with my sweet doggie, and a blankie, and my laptop, and read Katie Tallo's beautiful new e-book, The 7-Week Life Cleanse. It's absolutely stunning!
My body and spirit are calmed by the beautiful presentation.  My mind is excited about the prospect of working through this cleansing process.
I scanned Katie's index.  Smiling with agreement that each of the topics she covers are vital for living a balanced, cleansed life.  This year I've been working through many of the very projects she guides us through in the kit …
Creating Time and Space
Moving Differently
Gathering Ease and Flow
Taking Stock and Letting Go
Pushing Yourself Forward
Soul Searching
I've worked, diligently on each of these topics this year, made tremendous progress on them all.  Then I see the topic for the final week … Sustaining Change.  As hard as I've worked, I've made space, gathered momentum, learned from wonderful smart people, and filled that space right up, without making more space.  So, time to cleanse, and make more space, and take good care of my time, my body, and my spirit, and learn, this time, about Sustaining Change.
But how do you sustain this joy and love? Once you've struck out on the

path towards change, towards the life you really want, how do you stay the

course? We start any life change with vigor, enthusiasm, focus, and a rush

of excitement and then, more often than not, we lose our momentum. You

know the feeling when things begin to spiral in the wrong direction.
I've gotten good at change … it's very much a part of my life.  I hop on an off of proverbial roller coasters, and have even gained enough courage to jump from (small) cliffs with no guarantee of a net.  Sustaining the change is another ballgame.  Katie helps us with that.
Katie has a beautiful voice, and shares wisdom and insight gained from her life's journey.  She's lived her cleanse.  She is happy and eager to share what she's learned with us.
You can download the starter kit for free, or the entire 7-week cleanse for only $14.95.
No matter where you are on your cleanse journey, whether you're a minimalist, a creative junkie, or a homemaker hoping to carve out a few peaceful moments in your day, Katie speaks from her heart to yours, with her signature momentum and compassion.  Enjoy!